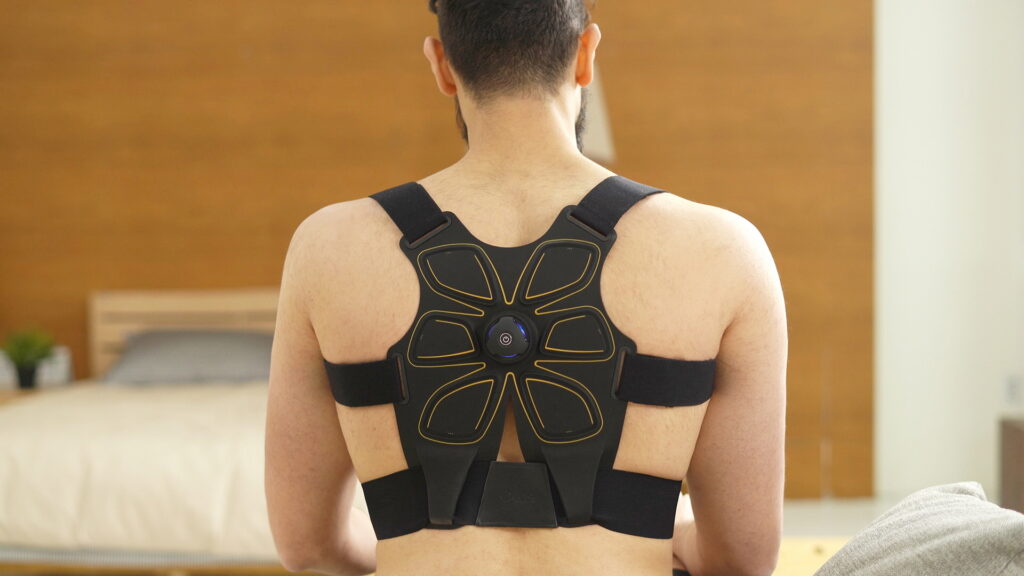 Many band-products have been launched to correct wrong posture and get rid of the following inconveniences coming from sitting for a long time, none of them have figured out a way to solve the problems. 
Dorsi Trainer, the world's first and only intelligent exercise equipment, is getting people's attention for launching on an American crowdfunding platform, Indiegogo in March. 
Dorsi Trainer is offered with high portability and a much lower price than massage chairs which cost hundreds of dollars. It strengthens muscles and helps straighten round shoulders. 15 minutes of daily use is enough to see the effect.  
You can wear Dorsi Trainer whether you are standing or sitting, after exercise, at home, and even in the office. It is the best muscle-care & stretching wearable item for modern people who can't afford money and time to take care of themselves. 
Dorsi Trainer, an EMS(Electrical Muscle Stimulation) product, maintains the balance of one's back and strengthens muscles through the low-frequency stimulation system. Also, attaching the pad on one's back automatically fulfills its operation and can take care of oneself without the pads. The good features of the pads are remote-controllable and can be operated regardless of time and place. 
Dorsi Trainer's EMS technology helps stimulate every single part of one's body and enhance blood circulation, which even leads to a decrease in body waste and fat. 
Involuntary muscle contraction caused by EMS, different from voluntary one, makes different electric generation that gathers muscular fibers. Those elastic bands straighten one's swayback, supplement relatively weak body parts, and balance left and right, causing upright posture. 
Dorsi Trainer's comfortable wearability enables stable care while its refined design meets one's visual satisfaction. The most ideal posture comes from the elasticity of bands, which relaxes chest muscles while straightening back muscles. This product is catching popularity for being highly effective muscle care and strengthening, among the athletes and trainers in America and Western Europe.  
The instruction is very simple. You can combine the main body with the pads, remove the protective film on the gel patch, and stick it to the desired area. The next step would be wearing Dorsi Trainer like a bag and fastening the waist belt. 
Press the power button for two seconds, and it will turn on. The ON shows red while OFF shows off the light. 
Dorsi Trainer provides 6 different modes and switches to another when pressing the MODE button. The intensity can be adjusted by the STRONG and WEAK buttons, and it has 1~9 levels for various choices. A user can always stop whenever he or she wants, and the suggested using time would be 15 minutes. 
The package is comprised of the main body, muscle pad, gel patch, band, USB charging cable, and user manual, and the main body's weight is 460g. 
Dorsi Trainer is available for sale at a discounted price on Indiegogo.