When we think of Dubai we think of classy hotels, sunny skies and of course fantastic beaches! The 3 seem to compliment each other in perfection making Dubai a fantastic holiday destination. Many people fly to Dubai either on business or on resort holidays where they spend most of their time being pampered in their hotels, but there is plenty to be explored outside the luxury hotels of Dubai. The Beaches in Dubai with their perfect golden sands and blue waters deserve to be explored by car if you have an international driver's license Dubai.
Many of the best beaches will however be located on hotel grounds meaning that only guests can use parts of these beaches, however most can be accessed with a small fee or hotel day pass. Before we take a look at Dubai's beaches remember that Dubai has strict muslim laws and things like skinny dipping, sunbathing topless or swimming in underwear can get you in big trouble. So think about things before you pack your suitcase.
Here are 3 must visit beaches in Dubai…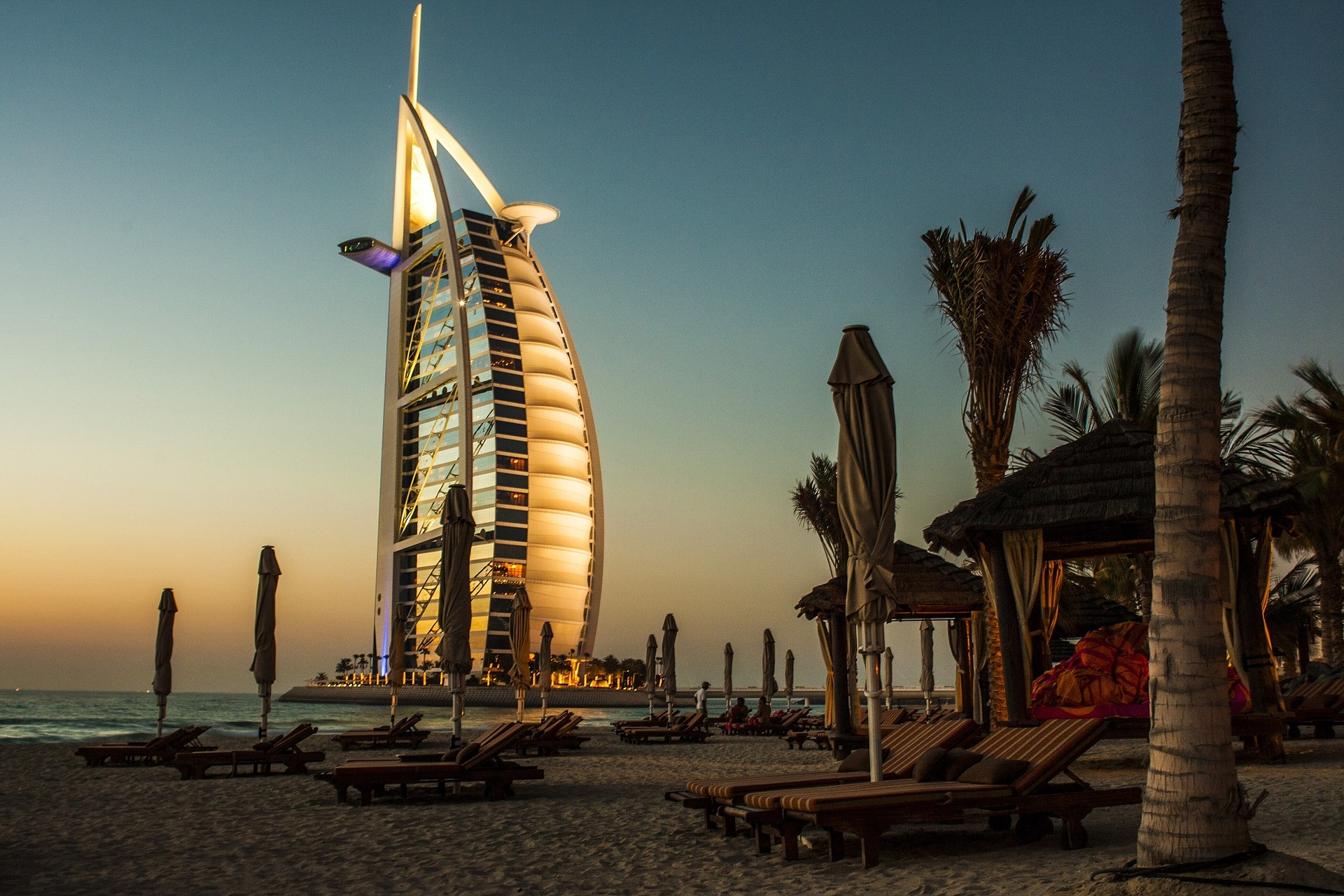 Jumeirah Beach Residence (JBR)
Jumeirah Beach Residence is very popular with both residents and tourists alike. The Beach has fantastic golden sands, it is free to enter and the facilities are very good with Showers and Changing Rooms. There are also grassed areas for those who want to play sport. Jumeirah Beach Resort is located on the beach and The Arabian Gulf Hotel has its own private section of the beach reserved for its guests.
Jumeirah beach Residence is popular beach for events and there is always something going on. The cities young and beautiful seem to hangout here at the weekends while tourists are attracted to the impressive restaurants that line the beach with their lovely sea views.
Royal Island Beach Club
Located off the edge of the Persian Gulfs Coastline lie the man-made archipelago of island, The World.
From above together the islands make up a map of the world. The archipelago was constructed over 10 years ago and unlike the Palms Archepelago that were completed in 2011 and are now occupied by a large number of Hotel Resorts, during the financial crisis in 2008 a large amount of the World islands were sold off and very little development has occurred.
The exception is the Lebanon island which has been developed commercially and hosts the fantastic Royal Island Beach Club. While this is indeed a man-made beach it had to be included in the lists for its exceptional location and purely luxurious resort. Those willing to splurge out the 250 AED admission cost will be rewarded with a 40,000 Sq/m Resort featuring two beaches, a large swimming pool, High end international restaurants and a beach volleyball pitch all perched in the middle of the Persian sea.
Al Mamzar Beach Park
The third of the 3 must visit beaches in Dubai is Al Mamzar beach Park.  Al Mamzar Beach Park is home to a beautiful stretch of beach and green fields to explore. Al Mamzar Beach Park is free making it a pretty good vacation deal for your family.
Watersports and Jetski's are popular activities at the beach park which features over 1500 palm trees. When the sun begins to set visitors can enjoy the use of 25 barbecue areas and fill up on food after a long day enjoying sea and sun.